(Photo © Brewers Association)
The 2017 edition of the
Great American Beer Festival
(GABF) concluded this past weekend in Denver, Colorado and once again a handful of North Texas breweries were recognized for their beers. It's clear, though, that the competition for medals is getting tougher, as breweries continue to open around the country and more beers are entered in the event. This year, 7,923 entries from 2,217 breweries were submitted for judging, which represents a roughly ten percent increase over the number of beers entered in 2016.
Up against that field, three local brewers brought home medals (depicted in the official event photos below), with that group being part of larger contingent of Texas breweries that landed a whopping
21 medals combined
.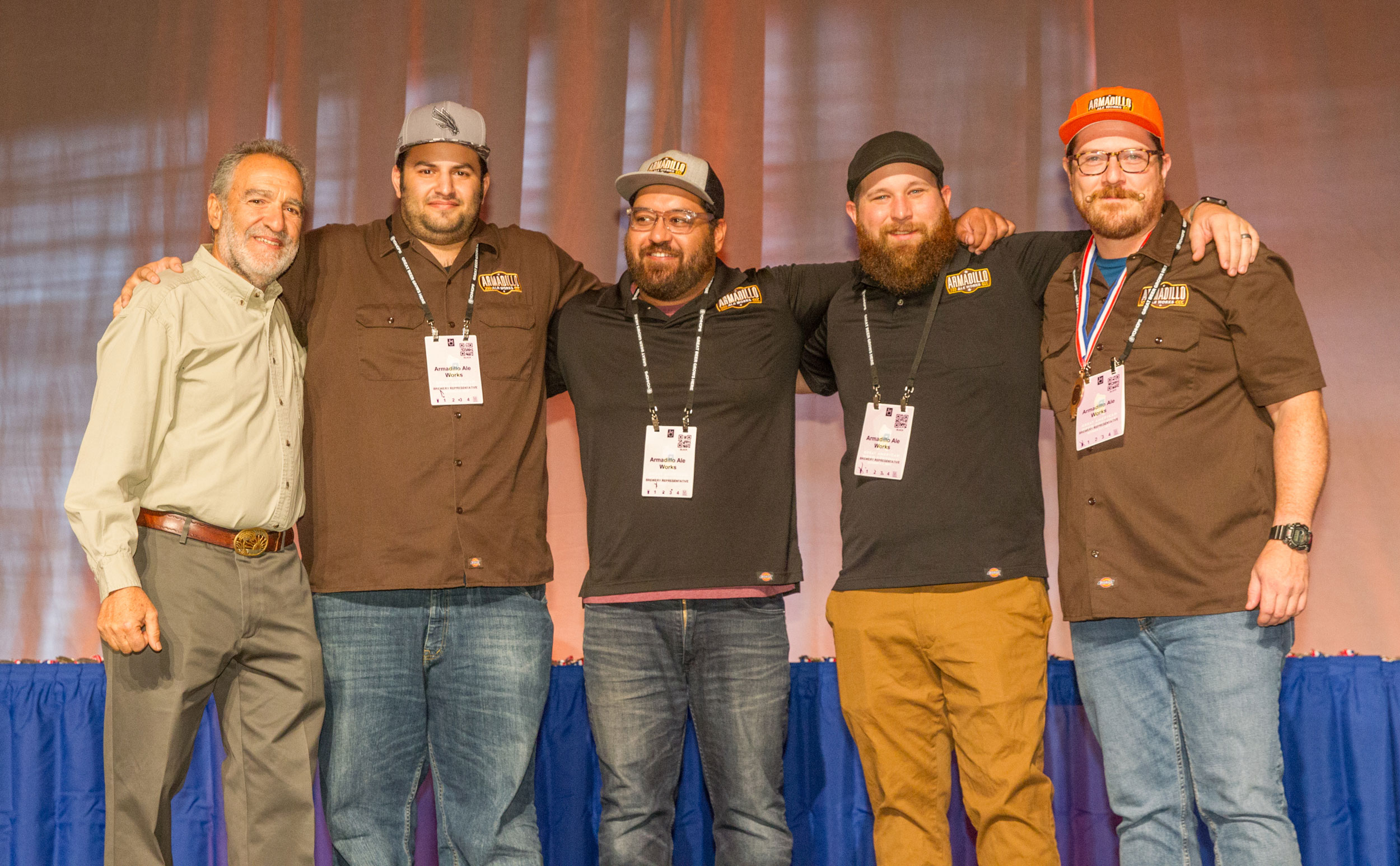 Armadillo Ale Works, Denton: Bronze for Honey Please in the
Honey Beer category (Photo © 2017 Jason E. Kaplan).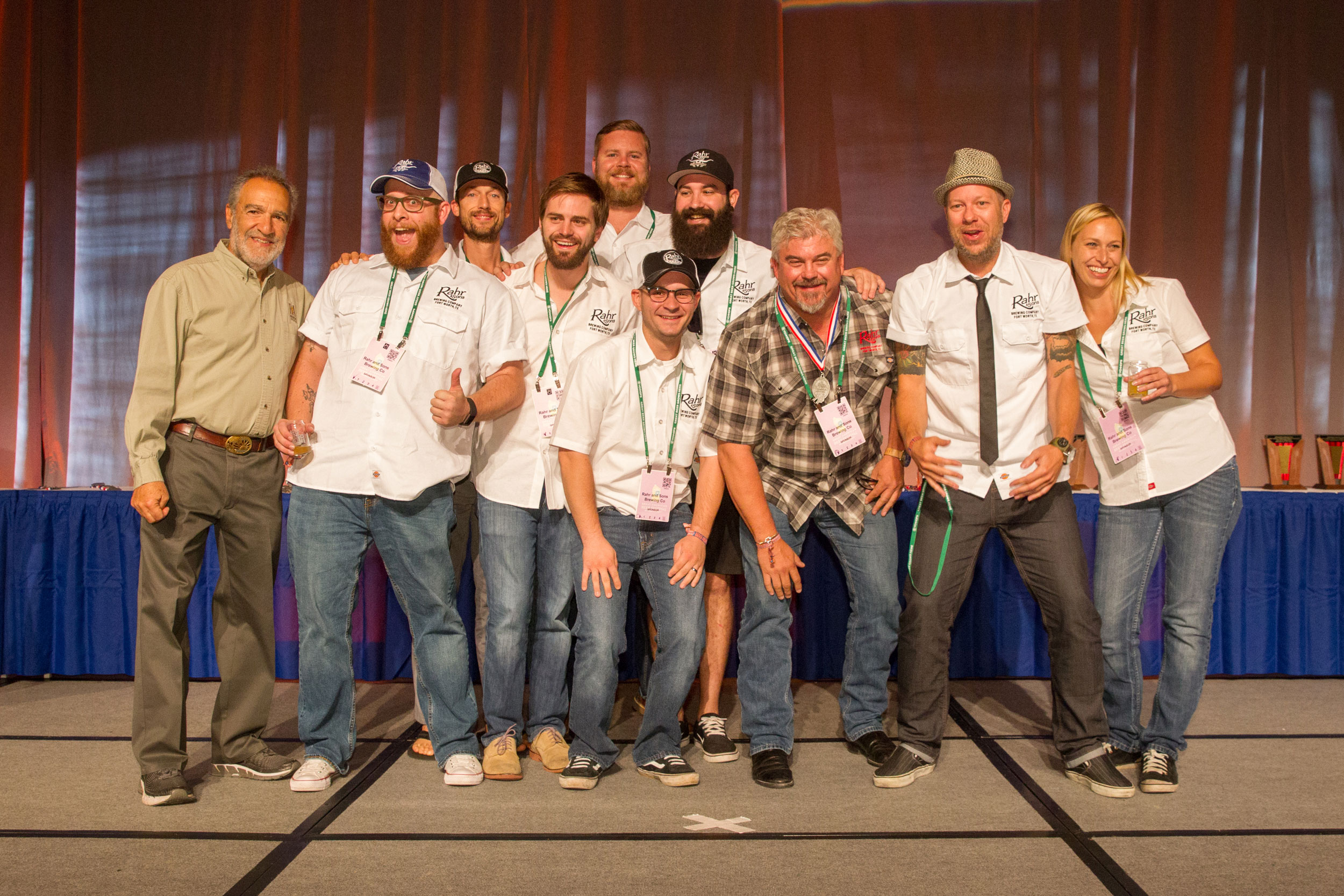 Rahr & Sons Brewing Co., Fort Worth: Silver for Oktoberfest in the
German-Style Maerzen category (Photo © 2017 Jason E. Kaplan).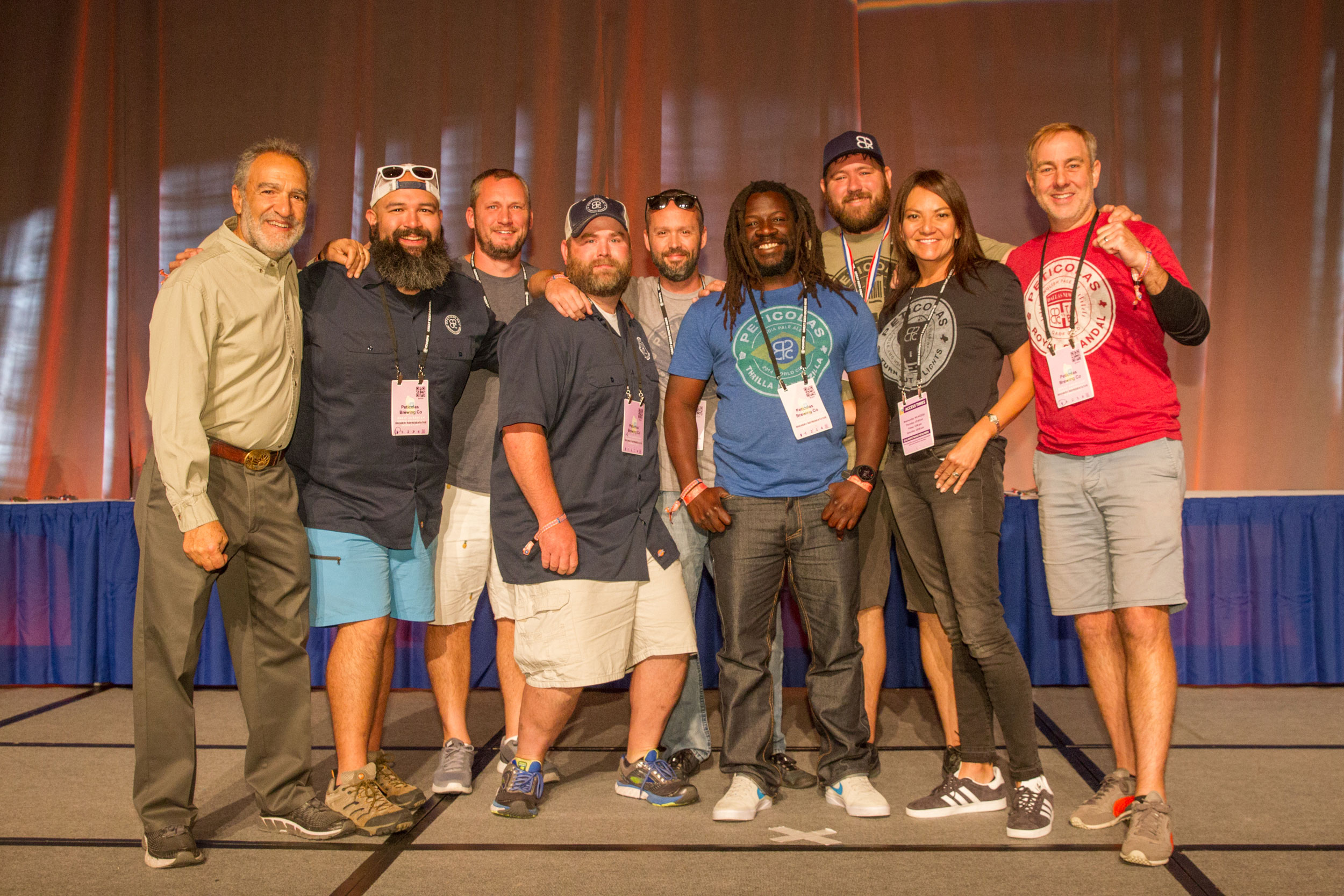 Peticolas Brewing Co., Dallas: Silver for It's Always Something in the
Belgian-Style Strong Specialty Ale category (Photo © 2017 Jason E. Kaplan).
Surveying the 2017 competition results, there were no first-timers from North Texas (something which hasn't happened since 2011), meaning all of the local medalists were repeat winners. Armadillo Ale Works scored it's second GABF prize, while Peticolas and Rahr & Sons earned their third and fifth overall medals, respectively.
As for other items worth mentioning from the 2017 festival (and beyond), I've broken things down into the snippets below - within which you'll find thoughts on a few beers that debuted during the event, not to mention a couple of others that came out of left field. There are also segments on the jumble of juicy IPAs that were available, and a type of beer not named New England IPA (NEIPA) that I'd like to see produced by a North Texas brewery. After all of that, I'll finish up with comments from the latest stops on my seemingly never-ending tour of Colorado breweries.
Cheers!
---
On the lookout for a Lichtenhainer
Given the abundance of flavor on the festival floor, I generally like to go in with a plan of attack centered around a lesser-known style. One year it was roggenbiers...another time, smoked beers. For this year's tasting trip, I opted to locate all the Lichtenhainers. Originating in Lichtenhain, Germany, Lichtenhainers are lightly tart, low gravity wheat beers made with smoked barley malt. In some ways, the style is a cross between a gose (minus the salt), a Grodsiske and a Berliner weisse, but it's the combination of smoke and sour that makes a Lichtenhainer unique. And, after trying versions made by Fair State Brewing Cooperative of Minneapolis, Minnesota, Pikes Peak Brewing Co. of Monument, Colorado, and Texas' own Live Oak Brewing Co. of Austin (the best of the bunch), I can't help but wish a few breweries in North Texas would take a stab at the style.
Press Pours (a.k.a. new brew debuts)
With the stage offered by GABF, it's only natural to see a few breweries trot out new tastes as a way to get the word out to the masses. Along those lines, pre-release press notes were delivered to my inbox regarding the debuts of Alaskan Husky IPA, Great Divide Chai Yeti, Ska BHC Double IPA and New Belgium 1969 Lager. Of those, the latter was a clean and well-made golden lager that is slated to become the signature beer at Red Robin restaurants around the country (presumably including Texas, since label approval has been obtained from the TABC). My favorite of the four mentioned, however, was the new Yeti incarnation, which seemed to do a good job of balancing the added spice (cinnamon, green cardamom, black pepper, ginger, nutmeg and vanilla) with the beast within.
A pandemonium of pulp
It seems appropriate that one of the first New England IPAs I tried at this year's GABF was called Wheez the Juice (by Drekker Brewing Co. of Fargo, North Dakota), since it didn't take much to sniff out samples of this popular type of beer. Whether it be on the festival floor or in a taproom around town, it seemed like NEIPAs were nothing if not omnipresent. That said, results varied, which makes me think that North Texas isn't the only region of the country still trying to get a handle on what these beers should taste like. In fact, I wonder if the lack of a discernible definition is what inspired the name of What the @$%& is Juice IPA from Pinthouse Pizza in Austin. In any case, the best I tried was probably Extra Extra Juicy Bits from Weldworks Brewing Co. of Greeley, Colorado.
The creativity of craft
As I tweeted almost immediately after taking a sip, the "what the ....? beer of the festival for me was Adam's Turkey Beer from 3 Freaks Brewery of Highlands Ranch, Colorado. This beer was straight up Stove Top Stuffing, which if the brewery's Twitter feed is to be believed, is exactly what was used in crafting the concoction. At the same time, I imagine more than a few people turned their noses up at Right Brain Brewery's Mangalitsa Pig Porter, seeing as how it was brewed with pig parts and all. But, like Wynkoop's Rocky Mountain Oyster Stout (the bull testicle beer) from a few years ago, if you didn't know ahead of time that the recipe for Pig Porter included whole smoked pig heads, I doubt you'd notice anything unusual while drinking it.
Taproom trips
Located in the Golden Triangle neighborhood of Denver,
Lowdown Brewery + Kitchen
offers just what the name implies, beer and food. I sampled and enjoyed both aspects of the place, which gets bonus points for having a few of it's own dedicated downtown parking spots. House beers are supplemented by guest taps, which during my visit included a swath of selections from Iowa's Toppling Goliath Brewing Co. Best beer: Otay, an oatmeal stout aged in rye whiskey barrels (
Photos © 2017 Brian Brown/Beer in Big D)
.
Pike's Peak literally peeks out over the top of a mountain range sitting directly between it and
Pike's Peak Brewing Co.
in Monument, Colorado. And, while the majesty of the mountain doesn't quite translate based on the locale, the brewery does offer a welcoming patio with views of other surrounding elevations. The beer and light bites are worthwhile as well, made all the better if enjoyed out in the open air. Best beer: Hot Shot Green Chile Ale (
Photos © 2017 Brian Brown/Beer in Big D)
.
Speaking of patios, it doesn't get much better than the one to be found at
New Terrain Brewing Co.
of Golden, Colorado (image above left). The brewery itself is set off in a quiet part of town, which makes it a great place to relax and get away from it all. Plus, if you're lucky, you might even run into the now-famous
brewery cat
, whose co-owner just happens to man the taps at New Terrain on occasion. Best beer: Floodland 2X IPA (
Photo © 2017 Brian Brown/Beer in Big D)
.
The last stop on my itinerary this year was the
Bull & Bush Pub & Brewery
in Glendale, Colorado (image above right). Around since 1971, this traditional English pub housed in a medieval-style building boasts a diverse selection of over 40 house beers on tap. I only stopped in long enough for lunch, but I hope to return someday to partake in a few more of the spot's easy-drinking English styles (
Photo © 2017 Brian Brown/Beer in Big D)
.
---
For more on the 2017 GABF and the historical performance of breweries from North Texas, click the links below: