Oskar Blues introducing Fugli Yuzu & Ugli Fruit IPA
Image courtesy of Oskar Blues.
Longmont, Colorado (April 27, 2017):
Suggesting the time has come to prep for the arrival of warmer temperatures, Oskar Blues has announced the release of a new summer seasonal.
Fugli Yuzu & Ugli Fruit IPA (5.8% ABV, 60 IBU) is brewed with Mosaic hops and a trifecta of fruits. It consists of an uncommon cross-continental combination of Japanese yuzu, Jamaican ugli fruit, and rangpur, an orange/lemon hybrid grown in Bangladesh.
"Fugli was inspired by a collaboration with Japan's Yo-Ho Brewing Co. that everyone here loved," says Tim Matthews, head of brewing operations at Oskar Blues. "We felt we could take it to another level, so we added more fruits, paired them with zesty mosaic hops, and started messing around with a light malt bill that gives the beer a full mouthfeel."
As for how it all comes together, Fugly is said to be a juicy, fresh and aromatic IPA that's immensely crushable.
"It's crisp and clean, not too bitter, and not too fruity," adds Juice Drapeau, head brewer at the original Lyons brewpub. "The fruits play nice with the hops, and the malt bill lets the citrus flavors pop. It's very drinkable - top of the list for outdoor day drinking."
Look for Fugli Yuzu & Ugli Fruit IPA to be sold on draft and in six-packs of 12-ounce cans. It will be available from May through August.
---
Founders KBS set for DFW delivery next week
Image courtesy of Founders Brewing.
Founders Kentucky Breakfast Stout, otherwise known as KBS, is scheduled to arrive at distribution in the coming days, with deliveries to North Texas retailers beginning the week of April 3.
For those unfamiliar (just in case there are any of these types of people), KBS is the second beer in the brewery's Barrel-Aged series. It's commercial description reads as follows:
"Imperial stout brewed with a massive amount of coffee and chocolate, then cave-aged in oak bourbon barrels for an entire year to make wonderful bourbon undertones come through in the finish. Your taste buds will squeal with delight."
The beer will be sold on draft, as well as in 12-ounce and 750 mL bottles. Availability, as always, will be extremely limited.
---
Founders shipping All Day IPA in 19.2-oz cans
Image courtesy of Founders Brewing.
Grand Rapids, Michigan (February 20, 2017):
Offering craft beer drinkers more to love, the number one selling session ale in American is now available locally in 19.2-oz cans.
Founders Brewing began shipping All Day IPA in the new format last month, but it is just now set to start appearing on North Texas shelves. Look for these cans to be sold as single-serve units alongside the already obtainable multi-packs of 12-oz cans and 12-oz bottles.
---
Oskar Blues to debut Hotbox Coffee IPA
Image courtesy of Oskar Blues Brewery.
Longmont, Colorado (February 9, 2017):
Bringing together a pair of strange bedfellows, Oskar Blues Brewery will release Hotbox Coffee IPA in March.
Hops and coffee are the coupling in question, as Hotbox (7.2% ABV, 70 IBU) will combine the flavors of pine, citrus and mango from the addition of Simcoe hops, with elements of cream, blueberry and cocoa drawn from a cold brew extract of Hotbox Roasters' Ethiopian coffee beans.
"We believe the citrus and fruit aromatics of an IPA, derived from the intense hops, pair well with the fruit of the coffee to produce a great, flavor-packed beer," says head of brewing operations Tim Matthews. "The combination of coffee and hops in Hotbox IPA serve to compliment and reinforce the delicious flavors and aromas both offer in this match up."
Hotbox Coffee IPA replaces GUBNA Imperial IPA as Oskar Blues' spring seasonal. The GUBNA will shift to limited, draft-only status from this point forward. As for Hotbox, look for that beer to be available on tap and in four-packs of 12-ounce bottles from March until May.
---
Stone expands year-round lineup with Tangerine Express IPA
Image courtesy of Stone Brewing Co.
Escondido, California (February 1, 2017):
Today Stone Brewing Co. announced a new addition to its stable of year-round offerings in the form of Tangerine Express IPA.
In creating this beer, Stone brewers used tangerine puree and whole pineapple to craft what's described as a big, bold IPA. Neither the hops nor the fruit are said to dominate, instead working together to create several complex fruit layers, something which can only be achieved by brewing with the entire fruit. On top of that, Tangerine Express IPA features a mix of eight different hops, giving the beer its marked dankness and refreshing bitterness.
"Tangerine Express is really hoppy, but at the same time it has incredible fruit flavor, which was achieved by using high-quality, whole fruit," says Jeremy Moynier, senior innovation brand manager. "Our co-founder, Greg Koch, was particularly adamant that this beer should be in our year-round lineup and personally championed it through the process. I love that it's a great hoppy beer, but it has just the right amount of fresh fruit with a complex, pithy quality to balance it out."
Look for Stone Tangerine Express IPA to be sold in 22-ounce bottles.
---
Pacific Rain joins Ninkasi's Flagship Series
Image courtesy of Ninkasi Brewing Co.
Eugene, Oregon (January 31, 2017):
Ninkasi Brewing Co. of Eugene, Oregon, is introducing a new beer to its Flagship Series made to celebrate quality ingredients found where the brewery resides in the Pacific Northwest.
Pacific Rain is billed as a Northwest pale ale built on a foundation of quality water. It's brewed with water from Oregon's McKenzie River, which undergoes natural filtration through lava rock before reaching the brewery. Four varieties of hops - Citra, Simcoe, Mosaic and Nugget - are added to the mix as well in order to capture the Pacific Northwest's love of hops.
"The sweetness of the malt lifts the hop flavor and aroma without intensifying the bitterness, bringing about juicy citrus, tropical and slightly dank tones," says co-founder Jamie Floyd. "We're super happy to release a full-flavored pale ale true to Ninkasi."
Look for Pacific Rim to be available on tap and in six-packs of 12-ounce bottles.
---
Stone adding Hop Revolver IPA to mixed packs
Image courtesy of Stone Brewing Co.
Escondido, California (January 27, 2017):
Today, Stone Brewing Co. announced the pending debut of Hop Revolver IPA ,one of a number of new beers revealed as part of the brewery's
2017 release calendar
.
As the name implies, Hop Revolver will be an ongoing series of beers brewed with a rotating hop schedule. The first edition has been brewed with Loral hops, which is said to give the beer lemon and floral notes, resulting in a brew that's fruity with a light herbal backbone and a big floral aroma.
"Our love of hops has led us to years of experimentation and seeking out new and different varieties," explains Jeremy Moynier, senior innovation program manager. "We have worked with so many great hops over the last 20 years, from our early love of Centennial in IPA to all the trials with El Dorado and Lemondop that led to Stone Delicious IPA and our current fascination with HBC 291 (a.k.a. Loral)."
Stone has experimented with a number of different hops as part of a run of single-hop beers developed at Stone World Bistro & Gardens - Liberty Station.
"Releasing these single hop beers to a wider audience through the Stone Hop Revolver IPA series is the next step in inviting our fans to share in the joy of hops," adds Moynier.
Hop Revolver IPA will be available in 12-ounce bottles, appearing exclusively in Stone All IPA Mixed Packs.
---
Alltech Lexington adding Kentucky Bourbon Barrel Blackberry Porter to seasonal lineup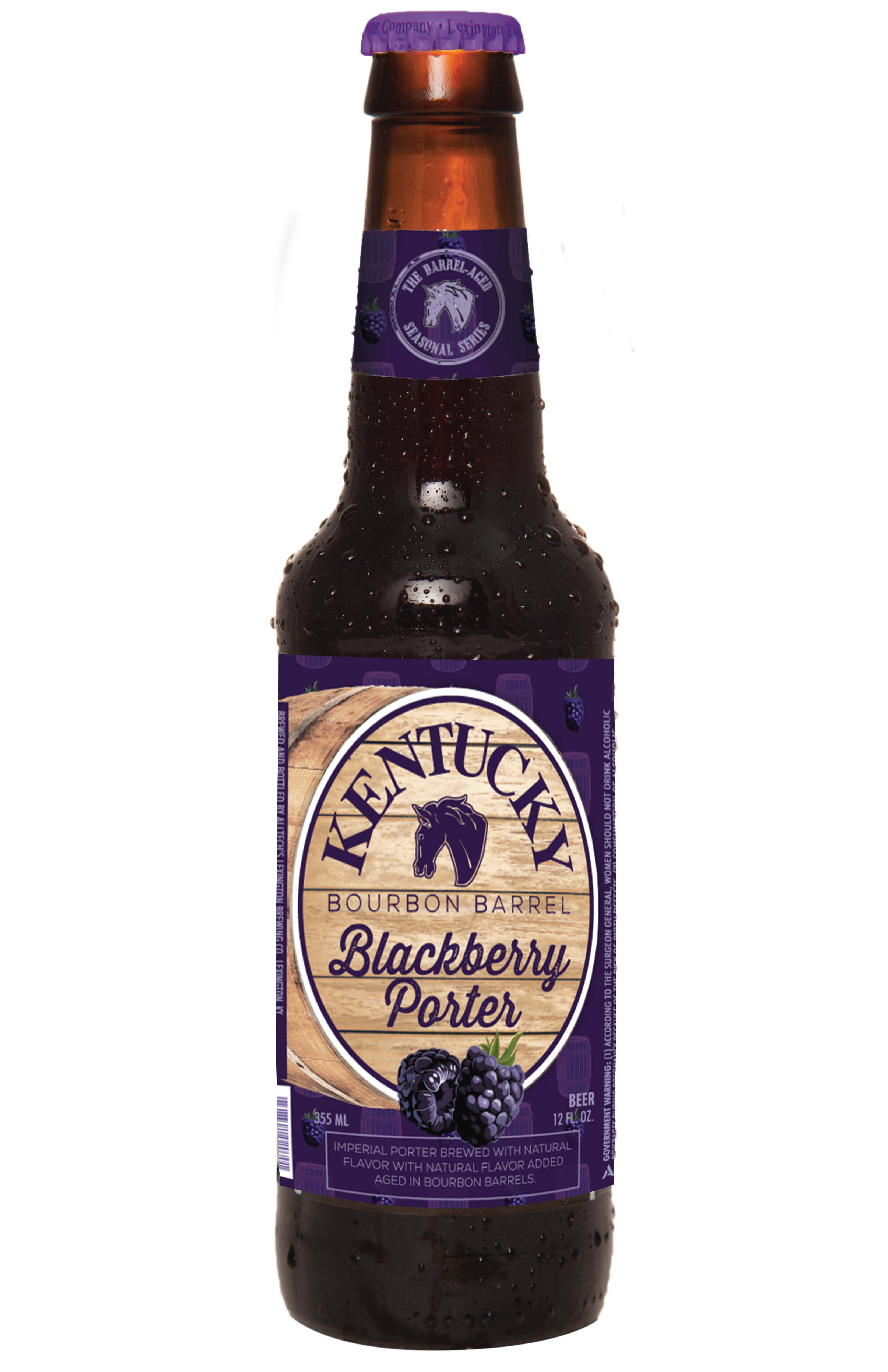 Image courtesy of Alltech Lexington
Brewing and Distilling.
Lexington, Kentucky (January 18, 2017):
Joining products such as Kentucky Peach Barrel Wheat (summer), Kentucky Pumpkin Barrel Ale (fall) and Kentucky Honey Barrel Brown Ale (winter), Alltech Lexington Brewing & Distilling is adding Kentucky Bourbon Barrel Blackberry Porter to its seasonal lineup.
Slotted as the spring entry in the company's Barrel-Aged Seasonal Series, Kentucky Bourbon Barrel Blackberry Porter is brewed with the official fruit of the State of Kentucky. The beer then spends two months in fresh bourbon barrels, eventually emerging with what's described as "bold roasted malt flavors complemented by a nose of fresh blackberries and a touch of sweetness from the Kentucky bourbon barrels."
Look for Kentucky Bourbon Barrel Blackberry Porter to be available on tap, as well as in 4-packs of 12-ounce bottles (pending TABC approval).
---